How to Decorate Your Front Porch for Fall
Fall in love with fall all over again with these perfect porch decor ideas.
For many, fall is the time to pretty up the front porch. Straw bales, corn stalks, pumpkins and mums will begin popping up around the neighborhood, and we're here for it. Here are some ways to make the most of your front porch this fall.
Snuggle up your front porch by adding autumnal blankets and pillows to outdoor chairs, sofas and swings. Get creative with fall textures, patterns and colors until you get the perfect cozy combo.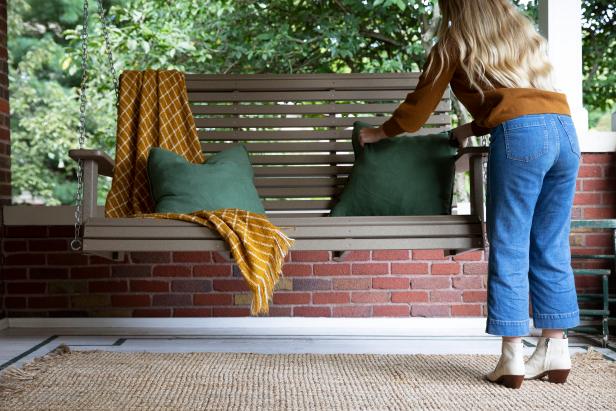 For years, mums have been a fall front-porch staple and for good reason. They come in a variety of fall-tastic colors and are the perfect way to add that colorful pop that lasts all season long.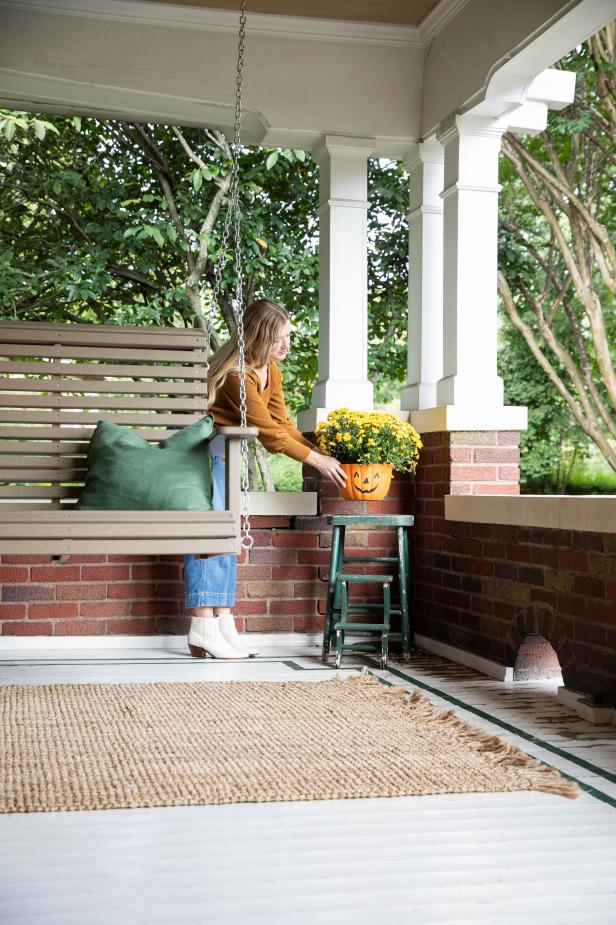 Fall in Love With Lanterns
Instead of turning on harsh overhead porch lights, opt for lanterns to achieve the perfect warm glow on those pristine fall nights. A couple of lanterns in varying sizes look beautiful with mini pumpkins dotted in between.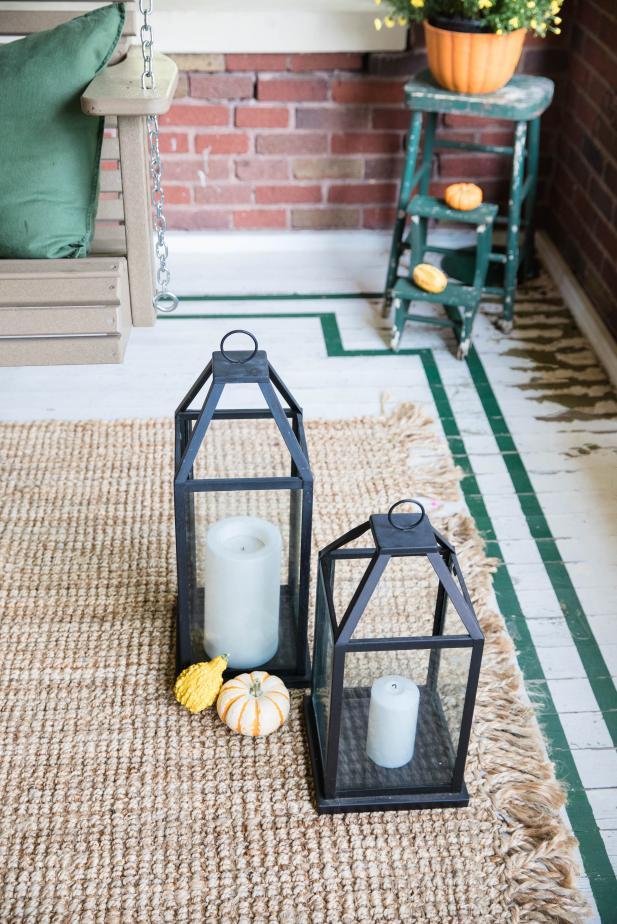 Vintage crates make for the perfect vertical display to add design depth and visual appeal to your front porch. Simply stack them up and scatter a few fall decor staples throughout the display.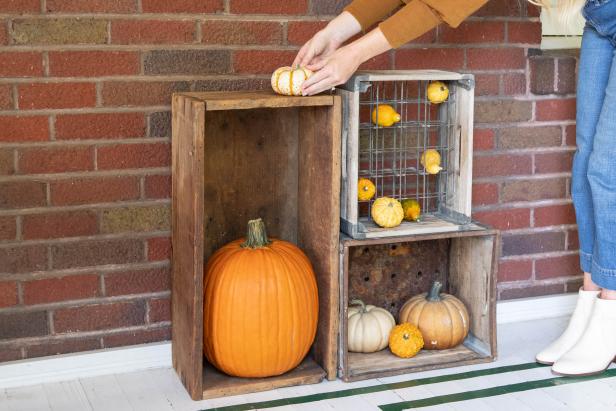 Swap Out Seasonal Planters
Once September comes, it is time to start thinking about swapping out your seasonal planters. There are plenty of beautiful fall foliage options, but if you are struggling to find one you love, you can't go wrong with more mums.
Just like fall fashion, fall front-porch decor is all about layering. Add a warm, inviting look to your front door by layering rugs. We chose an elegant plaid pattern beneath a fun fall message for a double dose of autumn.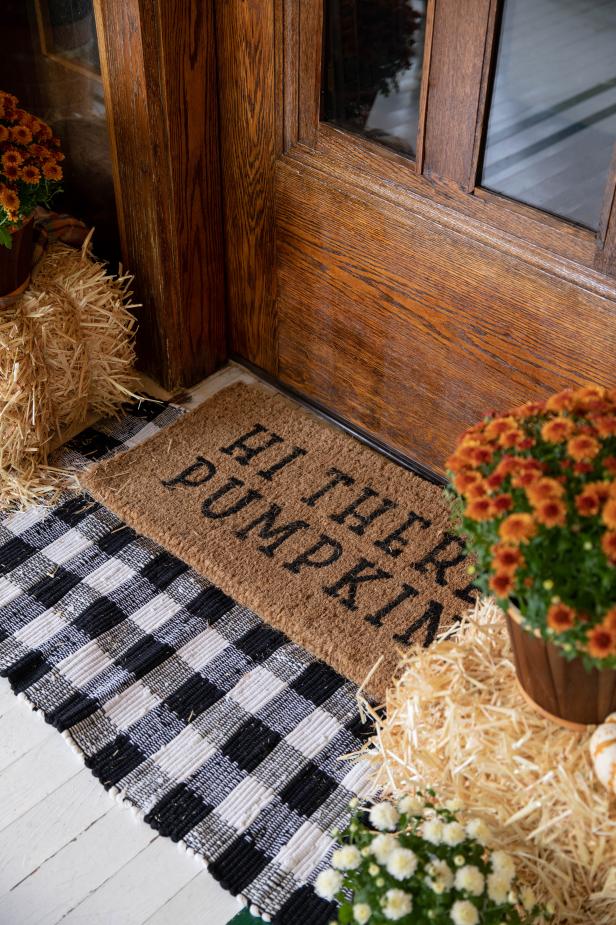 Take Your Decor to New Heights
If your decor is seeming a little one-dimensional, add height with straw bales. Simply flank your front door or walkway and place your decor pieces in front and on top of the bales for a more curated look.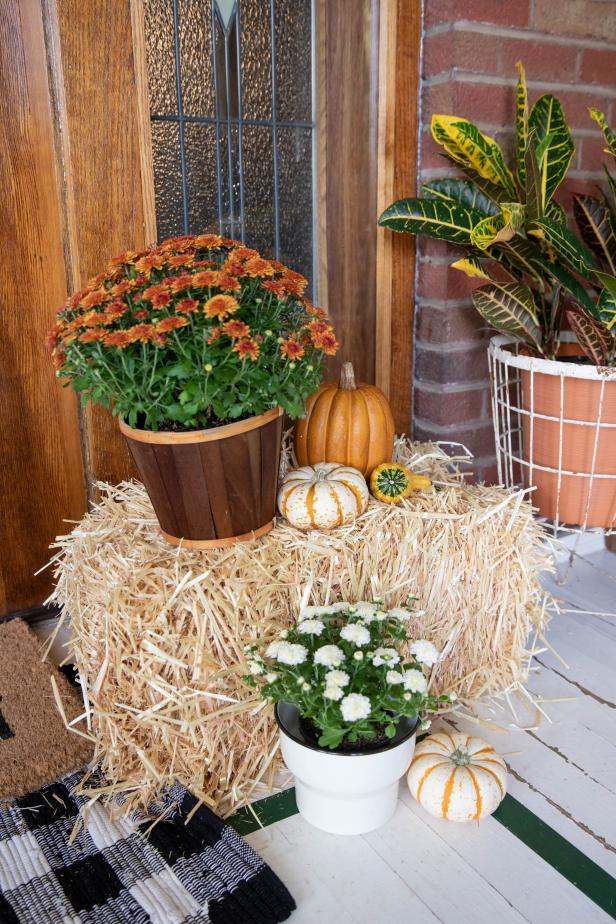 When searching for the perfect fall patterns and textures to complete your front porch decor, look no further than your closet. Grab an oversized flannel scarf and drape it over your bales or around your pumpkins to add texture and depth.
Don't waste your time repotting seasonal plants. It just isn't worth it. Instead, slip those less-than-pretty plastic pots into charming wooden baskets and bask in the effortless beauty.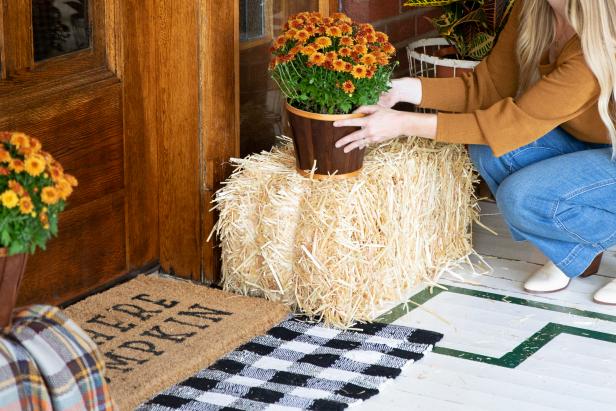 No fall front door is complete without a seasonal wreath. Simply swapping out your summer wreath for something more autumnal will make a world of difference.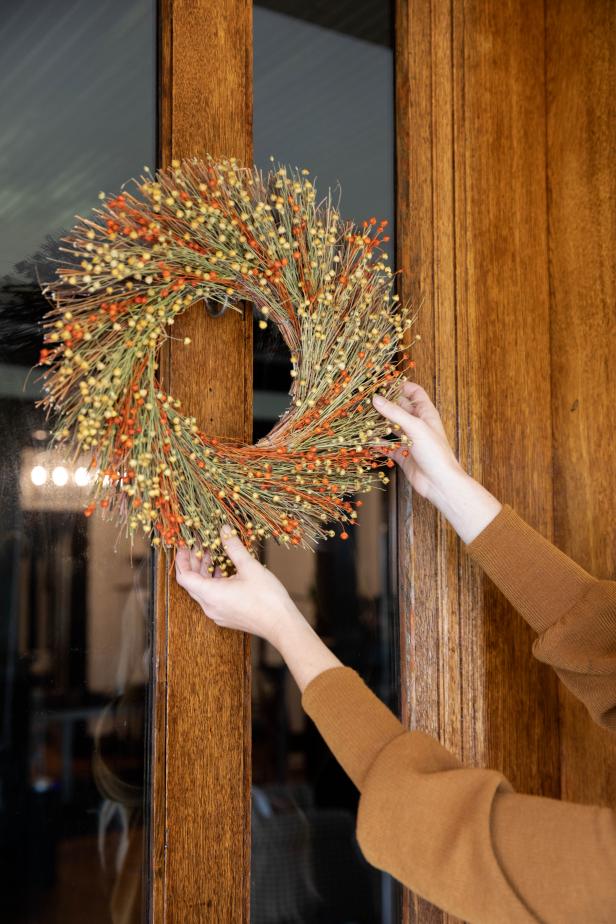 If your home features steps leading up to your front porch, use them to your advantage. Create depth by stair-stepping your decor, mixing in various seasonal staples throughout.